Welcome to the Green Bay Walleyes for Tomorrow chapter website. We are working to increase walleye production and habitat in Northeast Wisconsin.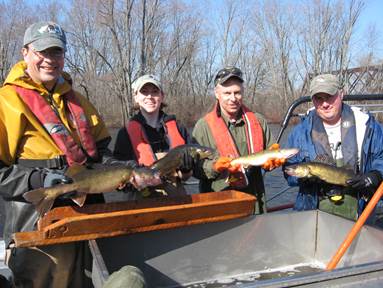 Our 2022 banquet will be held on Friday, March 11, at the Stadium View
Where: 1963 Holmgren Way, Green Bay.
When: Doors open at 5 p.m., with dinner at 6 p.m.
The Friday night fish fry buffet will feature baked and deep-fried cod, chicken, and all the fixings.
Banquet tickets are available at GreenbayWalleyesForTomorrow.com for $35/person. Corporate tables are $330 and include eight banquet tickets, a free walleye print and entry into a gun raffle for corporate tables registered by Feb. 28.
Thanks for everyone's support!
If you can help gather prizes or donate something, please contact us.
---
Flexible Classification of Wisconsin Lakes for Improved Fisheries Conservation and Management
Successful fisheries management practices developed for one ecosystem can often be used in similar ecosystems. We developed a flexible lake classification framework in collaboration with ~100 fisheries biologists for improved fisheries conservation management in Wisconsin, USA. In total, 5,950 lakes were classified into 15 lake classes using a two tiered approach. In tier-one, lakes were clustered into "simple" and "complex" sportfish assemblages.
In tier-two, lakes were further clustered using accumulated degree days, water clarity, and special cases. We focus on temperature and clarity because these factors often drive fisheries change over time — thus a lake's class can change over time. Lake class assignments were refined through a vetting process where fisheries biologists with expert knowledge provided feedback.
Relative abundance, size-structure, and growth rates of fishes varied significantly across classes. Biologists are encouraged to utilize class interquartile ranges in fisheries metrics to make improved fisheries assessments.
We highlight hard-won lessons from our effort including: (1) the importance of co-developing classification frameworks alongside fisheries biologists; and (2) encouraging frameworks where lakes can shift classes and fisheries expectations over time due to factors like climate change and eutrophication.
---
The mission of WFT shall be to work with other clubs, agencies, and the DNR to improve the quality of walleye and sauger fishing.
This may be achieved by, but not limited to the following goals or methods:
• Water quality and habitat improvement
• Construction and/or improvement of spawning areas
• Spawning protection
• Stocking
• Studies and research
• Promotion of selective harvest and/or catch and release
• Awareness and management of aquatic ecosystems to achieve a balanced fish community
• Education and public awareness of issues important to the resource
• Other methods and activities that may have a positive effect on the improvement and stability of walleye and sauger production.
Walleyes For Tomorrow will help provide the needed resources to achieve the above through fund-raising efforts and by recruiting volunteer labor where possible.
Walleyes For Tomorrow and other volunteer organizations such as fishing clubs, municipal, state or federal governments (including state and federal fishery bureaus such as the DNR and others) may carry out projects.
Furthermore, we are proud to say that ALL FUNDS raised stays in the Northeast Wisconsin.
You can help by attending our banquet March 13, 2020, at the Stadium View. Contact Us to learn how you can be involved in our efforts.