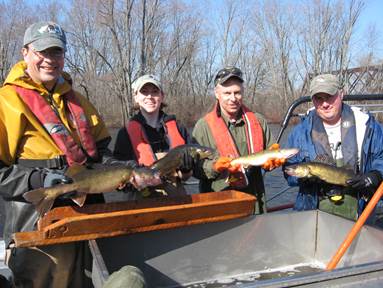 This report contains length distribution of Walleye captured during 2014 spring electroshocking on the Fox, Oconto, Peshtigo and Menominee Rivers.
Charts also show active year classes.
Background
Walleye stocks in southern Green Bay were decimated during the early to mid-1900s by habitat destruction, pollution, interactions with invasive species, and from over-exploitation. Following water quality improvements in the early 1970's, the Wisconsin Department of Natural Resources began to stock fry and fingerlings to rehabilitate the Walleye population.
Stocking began in the Sturgeon Bay area and later expanded to include the lower Fox River (downstream from the DePere Dam). This stocking (fingerlings and fry) was so successful in southern Green Bay and the lower Fox River that it was discontinued in 1984 to allow surveys to determine if substantial natural reproduction and recruitment was occurring.
However, stocking in the Sturgeon Bay area resumed in 1994 and continues with a mix of fry and fingerling being stocked to augment the population. The total number of number of Walleye stocked in Wisconsin waters of Green Bay has varied by location and year with over 70,000,000 fry and 4,500,000 fingerling stocked into Green Bay and the Fox River since 1973.
Click Here to see full report along with year classes of walleye that are in Green Bay